Create your ad
Preview
Purchase and publish
Why post on our Job Board?
Simply Youth Ministry is a trusted resource for youth workers all over the world.
With over 10,000 youth workers coming to our websites daily, there will be plenty of visibility for your job posting.
We value healthy relationships between Churches and Youth Pastors.
As a ministry, our desire is to connect healthy Churches with passionate Youth Pastors for the long run. That's why we ask you to make a commitment to a covenant before you post the job.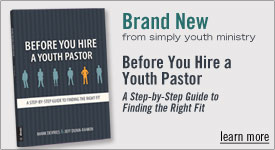 Step 1: Create your ad